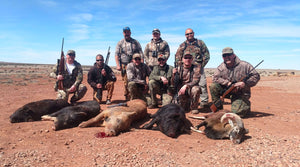 No license or tag required.
MESSAGE FROM TOM:
Over the years I have spoken with so many hunters who have the same complaints:
I never get drawn.
I am tired of driving to other states or countries to hunt.
My 10 year old can get a license in Arizona.
If you love to hunt, and you have experienced or had the same things stopping you from hunting come to the Blue Rooster Hunting Ranch! No license or tag required.
Spot and stalk hogs, 14 species of Rams, Bison and so much more. Hike these beautiful canyons with the Little Colorado River winding through, it will hike your butt off!
Spend time with friends and loved ones in the great outdoors and fill up the freezer!